MAGIS Central Europe 2018
14 - 22.

07.2018

Want to take part in an experience that can change your life? We are waiting for you in MAGIS Poland!
VISITORS
Interested?
Really? Then, you should check news from our experiments and you may see Flickr album as well.

During our experiment "I was a stranger and you welcomed me" we met with migrants and…
MAGIS Central Europe is a meeting of young people (18-35 years old) from our part of Europe who are interested in Ignatian spirituality. The program offers an opportunity to share a unique experience at three distinct levels: individual growth, relationships with God and others, and intercultural dialogue.
The central figure of the program is Jesus Christ. The purpose of the entire event is to help you meet Him, experience His unconditional love and discover His presence in your everyday life.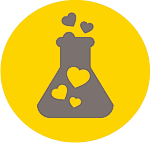 14-20.07.2018
MAGIS Experiment
First part of the Program are the Experiments. They will be organized in Poland and Lithuania, Latvia, Czech Republic, Slovakia and Hungary.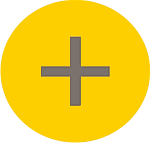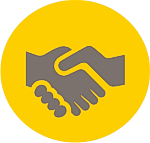 20-22.07.2018
WRAP - UP
After having experienced deeply the presence of God we will all gather to exchange the joy of living the grace of God. It will take place in Łódź.

We have learned a lot of things - about experiencing God in different ways.
Eugene Kavishe
We are working in a nursing home. We are taking care of the elderly people. Organizing them time of joy and fun.
Daniena Nonoska Arennda Medina
What I am trying to live is to be really present in the moment, aware of what's happening around me.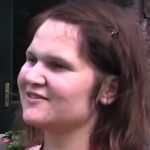 Emilia Puskunigyte
I am feeling the joy in my heart, that is when I truly know that I am in the mids of God. That God dwells among us and God lives in us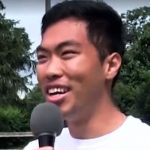 Brandon Foo
A bike, a kayak, or your own two feet – whatever the means, you are sure to enjoy the challenge and the reward of hitting the road and reaching your destination. When a heavy backpack weighs you down and the comforts of your everyday life seem like a distant memory, you might be surprised to find how the things you thought you could never do without are actually unimportant.

The cycling pilgrimage experiment is a 5-day journey along some of the less frequently travelled roads of Poland. We are planning to visit Częstochowa and Jasna Góra - the spiritual capital of Poland. Moreover, we are planning to spend one day at the charming, Polish lakeside. The experiment will start and end in Łódź, so that we will not waste time when travelling by bus. Bicycles and helmets are provided for the participants. We are planning to gather together for the 'Magis circles' and to celebrate Eucharist on a daily basis. It will also be possible to make a confession. We will not try to become racing cyclists and compete with the athletes of Tour de France, however; it is worth to physically prepare yourself for this experiment (we encourage You to have an everyday cycling session everyday during a period of 2 weeks before the Magis 2018 event). We are planning to complete an approximate distance of 60 kilometers every day.

Our experiment will take place in the Bieszczady Mountains. We will stay in the city called Rzeszów. From this place we will go to Wetlina. Every day we will be hiking on a different mountain trail but our accommodation won't change. We are not planning on going for long and exhausting walks because we want you to have a strangth to pray. Our goal is to create a nice space where you will be able to pray and have conversation with other participants. To summarize we will spend about 6 hours ( not including breaks) hiking in the mountains, but dont worry-Bieszczady are not as difficult to climb as you may think and the view is breathtaking.
The route of this piligrimage will be in one of the most beautiful places of Lithuania- National Park of the Curonian Spit.. It is a UNESCO World Heritage Site shared by Russia and Lithuania. We will walk approximately 15 kilometers each day, bringing our backpacks with us. We will try to find God everywhere: in the beauty of nature, beach, people who we will meet, joy, meaningful conversations as well as in sorrows and all difficulties which we might face. As we walk only about 15 km per day, we will have enough time to explore surroundings, do some sightseeings as well as ride bicycles. Requirements: good hiking shoes, ability to ride a bicycle.
This experiment will be pilgrimage between the experiments. Sometimes we don't know that is interesting for me, or what I really want to choose, or maybe I want to tray so many things. In this experiment every day we will have new experiment: one day we will walk (25 km), another day we will keep in silence (like silence retreats), another day we will sail the canoe (12 km), another day we will have bibliodrama, another day we will have game day.
We all will live in a tents (participant have to have own tent). We will cook food on the fire.
Will be quite an extreme journey during which we won't use any transportation, money or mobile phones. There won't be any prepared food waiting for us on arrival or anticipated places to sleep.
This will be a journey of trust in which we'll have to count on each other, people who we'll meet on the road and most importantly God.
The aim of this pilgrimage is to search and find God everywhere - in the nature, in the encounters with strangers, in the history of the region and in the community of our pilgrim group.
We will travel on foot in the Regional Park of Varniai and in the National Park of Žemaitija. The final destination of our pilgrimage will be Žemaičių Kalvarija. It's a special place for pilgrims in Lithuania with a famous tradition of the Way of the Cross, also known as "The Hills".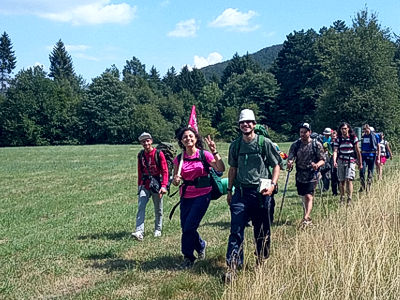 Walking in God's presence in the highlands near Budapest, a pilgrimage from Budapest in highland Pilis (the so-called Hungarian Zion) through natural reserves of the National Park Duna-Ipoly, with nice forests, valleys/ravines, hills, cliffs and places with great views, caves where hermits used to live and sacred Christian places. By the means of walking, spirituality and special prayers (e.g. silentium), we will try to get closer to God. Generally we will walk 18-20 km on hiking paths and hills (a partially mountainous terrain), bringing our backpacks with us.
Requirements: Some trekking experience and good physical condition; good hiking shoes.
Location: Highlands near Budapest (Pilis), Hungary
If your wish is to plunge deep into prayer and contemplation and learn about different traditions in Christian spirituality, this is the category for you. These Experiments aim to further your spiritual growth.
'Acting' application of Ignatian meditations. Exercitants contemplate attitudes and motivations of people who appear in selected situations of the Gospels. Participants (divided into small groups) will try to demonstrate the behaviour of these people (witnesses of Jesus' acts or characters from His parables) and thus to realize and experience more deeply motivations and feelings which shaped their attitudes and actions. Don't worry about Your "acting skills", it's not about to showing Yourselves – but about Your spiritual experience!
Everyday we will look for God and discover his operation in the beauty of creation, in history and culture of the local community, and in other people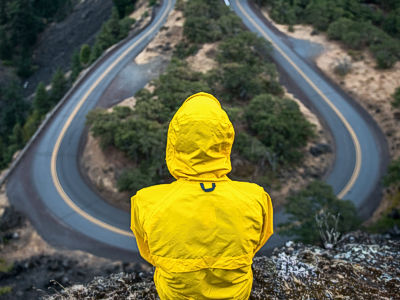 This experiment in spirituality will provide some instruments of good decision-making and vocational discernment. Through the workshops, exercises and exchange between participants, as well as times of prayer, meditation and reflection - we'll try to learn how to cooperate with God in daily life and how to grow in our common call to be alive - being close to God and loving others.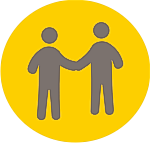 This category will give you an opportunity to meet other religious, cultural and social groups. You will get to know people from different congregations and learn about the local traditions in Poland or another country where the Experiment will be held.
We live in a society where different nations, cultures and religions cross and mix through migration. This experiment offers an opportunity to get to know various ethnic, religious groups, and the stories of migrants and refugees. The encounter with the different realities of people, the listening to God and the others, and the sharing of our experiences will give us the chance to meet and see God in the other, the different, the stranger.
Each activity, even social ones like trips, games, movies, etc., will help us to grow in the mutual respect, dialog, communion in God among diverse people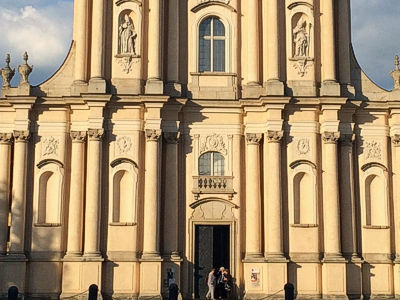 Each work of art commissioned by the Church is a trace of time, culture and life of the community that created it. It may be also a testimony of its faith, prayer and liturgy. We have inherited this splendid tradition from people of faith who have preceded us. During the experiment we will learn to be responsible for this tradition: we will learn to understand it, to discover its theological meaning and spiritual significance, and to share it with other people. We will experience the beauty of Warsaw churches in new, more intensive way – not only as works of art but also as an aid in encounter with God and other people. The experiment is a part of a world-wide community of Living Stones, you can learn more: http://www.pietre-vive.org/

This experiment is addressed to people who: - like to get to know other culture and microhistory of Pomerania region; - love to spend time in the bosom of nature; - don't afraid of challenges… and sleeping in a tent in the forest (without a bathroom) During the experiment we plan to: - know the Pomeranian culture (among others we want to invite you to visit: Oldtown in Gdańsk, open-air museum of culture and folk architecture in Wdzydze Kiszewskie, Calvary in Wiele etc.); - wander around the Bory Tucholskie National Park; - organize a three-day canoe trip (on the Brda river). Everyday we will look for God and discover his operation in the beauty of creation, in history and culture of the local community, and in other people

The Mag+s experiment "Word on Papyrus" will offer an opportunity to enter the Biblical world of the culture of writing. During the workshop participants will create their own sheets of papyrus and will be instructed how to write in an ancient fashion – just as the Evangelists and other NT scribes used to do. The location of the experiment in the Jesuit Center Xaverianum in Opole will help us to create an atmosphere of a friendly community and to enjoy the lovely old town of the Southern Poland, organizing small trips, walking in nature, playing and exploring some spiritual dimensions of our life. Everyday we will look for God and discover his operation in the beauty of creation, in history and culture of the local community, and in other people. Testimonies:  https://www.magis2017.org/single-post/2017/08/16/Word-on-Papyrus-I https://www.magis2017.org/single-post/2017/08/16/Word-on-Papyrus-II
This category is all about helping others. And helping others also entails helping the natural environment. By bringing you closer to nature, these Experiments will give you an opportunity to delight in the beauty of God's creation and to learn to contemplate His presence in all living things.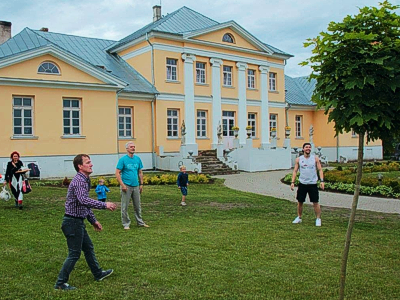 This is how one of the most fundamental works of Latvian literature sounds "God. Nature. Work", and these values rely deeply in the grounds of the Latvian culture. The Christian social rehabilitation centre in the splendid Brukna manor works with addicts, and the therapy is prayer and work. We will work in the manor's beautiful Renaissance garden and experience also creative experiments closely together with the community. Location: Brukna, Latvia

In Eastern Europe, the material and spiritual misery of many families is undoubtedly one of the greatest social challenges of our days. In Miskolc, an industrial city of North-East Hungary, many families (including gypsies) are afflicted by poverty because of parental unemployment. During summertime, the children are on the streets every day without any proper occupation or care. In this Magis experience, we organize programs for these children (games, music, crafts, basic English courses, etc.), invite them to eat together with us and teach them how to pray.

The experiment will take place in a health care centre Sosnowa Aleja in Wardzyn where elderly people can recuperate in silence and peace. The experiment is about helping patients not only through a spiritual conversation, but also through our presence that makes a smile appear on their faces. The aim of activities will also be the care of the elderly people, such as helping them when eating meals and during rehabilitation treatments. Another important point of this experiment will be simply spending time with patients, e.g. going for a walk and participating together in Masses. The activities will be supervised by specialists who will teach us how to do everything properly.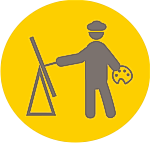 Are you into the arts? This category comprises painting, architecture, graphics, folk art, icon painting, acting, singing and many other Experiments. It's time to get creative!

Writing icons is a form of prayer. Our mission will be to write an icon and to discover the way how the proces of creating it, affectes us. Despite it seems to be a serious job to write an icon, the time will be full of smiles, joy and braking one`s limits. The time spent together working on icons is also a time of prayer, building community, common celebration of the Eucharist, and an opportunity to get to know ourselves better. We'll have some time to see Warsaw, the capital city of Poland.
Requirements: Passion for icons and sacral art, discipline, perseverance at work, patience, desire to create a religious image; a taste for visual art, ability to draw and paint well enough to hand write an icon in a quite limited time. No special instruments are needed - all the materials will be provided. Only clothes that you will not mind making dirty would be useful.
The experiment is connected with prayers, music and songs from Taizé. The program will include meditations, common reflection of biblical texts and a space for quiet time, relaxation in the countryside and sports. We will learn songs from Taizé with solos and other liturgical and classical music. The experiment will be guided by professional musicians. We invite you to seek and find God in nature, music, sung prayer and community life.​ Requirements: Positive attitude to songs from Taizé, silence, and prayer. Good ear for music. Basic experience with singing. More information: http://jezuiti.sk/blog/kamnatftu/magis/ ​Location: Trlenská dolina (near Ruzomberok), Slovakia
Follow me! Peter heard these words for the first time when he and his brother were throwing nets into the lake. There must have been something extraordinary in Jesus, because the brothers immediately left the nets and followed him (cf. Mt 4: 18-19). A few years later, at the same place, Jesus took Peter aside, asked him three times about love and said again: Follow me! (Jn 21: 15-19). Between one and the other Follow me! the Gospels describe the extraordinary friendship of Jesus and Peter. It is given to us so that we may also know how to make friends with Jesus. This friendship radically changed Peter's life radically. A simple fisherman from Galilee became the first leader of the Church. Due to this friendship something more happened in Peter's life. All his life became MAGIS!
Following Jesus as Stanisław Kostka SJ
The pursuit of holiness is not a boring thing – it is in fact a wonderful and fascinating way to which each of us is invited. It was well understood by St. Stanislaw Kostka (1550-1568), a young Jesuit whose life became an incredible adventure. As an almost 17 year-old boy, against the will of his parents he decides to start a fascinating journey of following his deepest desires that God poured into his heart.
In his case, it meant becoming a member of the Jesuits whose work and life he had met at the College of Vienna where he and his brother Paul had begun to study. But before he entered the novitiate of the Society of Jesus, he had heard the resolute opposition of his parents and his older brother who had already had specific plans for him. Staszek took the matters into his own hands.
He knew he had to fight for his holiness. He decided to follow Christ despite the pressure from the family. Staszek eluded from the Viennese College in the morning of August 10, 1567, and, in the disguise of a poor pilgrim, travelled almost 500 km to meet Fr. Canisius, a Jesuit who recognized his sincerity and spiritual qualities. He sent him along with two other young Jesuits to Rome which meant another 1000 km of march. Despite his poor health, Staszek did not worry about travelling.
The joy of following the good that was revealed to him was his greatest joy blinding him to the hardships of pilgrimage. Staszek entered the novitiate in October 1567. His religious life lasted only 10 months, as on August 15 he passed away claiming on his deathbed that Mary with angels were taking him to heaven. Staszek, an almost 18 year-old monk, leaves this world with the conviction that it was worth fighting for the full realization of his desire to follow Christ.